November 17 saw Melbourne host the PGDay Australia event with great success. It was one of the largest gatherings of PostgreSQL fans held in our region.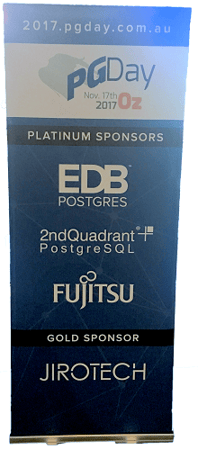 As co-organisers and major sponsors, we found the event a great way to meet the extended PostgreSQL community from across Australia and New Zealand, as well as people who travelled from other parts of the globe.
Our team from Fujitsu specifically helped attendees learn more about logical replication, centralising authorisation in PostgreSQL, and how easy it is to contribute to the PostgreSQL community. The organisers have posted all the presentation decks on the PGDayAU website under the speaker profiles for those who were unable to attend.
Click here for a summary of all presentations.
---

I've also included Slideshare links here for the three presentations delivered by my colleagues.
Rajni Baliyan
Logical Replication
Hari Babu Kommi
How to Contribute to the PostgreSQL Community
Gary Evans
Centralising Authorisation in PostgreSQL
Watch out for more news and information regarding the 2018 event and we look forward to staying in touch with everyone in the PostgreSQL community.


---

Announcing PostgreSQL Down Under Inc.
The event also saw the launch of PostgreSQL Down Under Inc. As a founding committee member, we have committed to this organisation and look forward to working with our peers to make it a source of information and networking opportunity for the PostgreSQL community in Australia and New Zealand.