This global event takes place in 22 countries across six continents with the 2017 agenda showcasing best practice in co-creating the digital future with customers.
In a world of constant digital transformation, organisations need to learn fast, act quickly and scale rapidly, whilst managing the risk of change. That makes it more important than ever to team up with technology experts and work together to design, transform enterprise data, to deliver digital business solutions.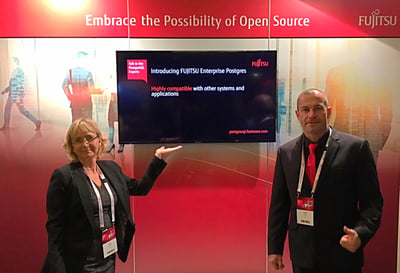 Niki Kennedy and Gary Evans
from the Fujitsu Postgres Team
Our experts were on hand to help
This year, our experts were on hand to help attendees understand both the business and technical benefits of an open-source database strategy, and the considerations to making that transition with a PostgreSQL-based solution and how we can help.
Many visitors were looking to reduce proprietary license costs, engage specialist database skills, such as database migration assessments, disaster recovery architecture and operational reviews. Some were looking flexible support services and expert training - both things we offer. Others were evaluating the benefits of upgrading their PostgreSQL to our feature rich enterprise database - FUJITSU Enterprise Postgres.
It was a great opportunity for attendees to learn more about:
how they can best embrace the potential of open-source
whether their data is digital-ready
factors that need to be considered in transition
how to migrate their data with confidence
insights to empower data as a business advantage
how to save up to 80% on database costs
ongoing support and skills development
how to enjoy the freedom of no vendor lock-in.
FUJITSU Enterprise Postgres on display
Fujitsu has been contributing and is committed to the PostgreSQL community for over 16 years. Our contributions have helped to enhance PostgreSQL for everyone. We have used this heritage and knowledge to develop FUJITSU Enterprise Postgres which is one of the most cost effective mission-critical enterprise databases available.
Key features and benefits including:
high reliability and strong disaster recovery features
additional enterprise-grade features
compatibility with other systems and applications
quick to install
cloud-friendly licensing agreements.
We have coupled this with our deep expertise and global reach to deliver our range of services to ensure organisations can remove expensive infrastructure costs for their business.
We welcome you to contact our experts if you would like to know more about FUJITSU Enterprise Postgres and our specialist PostgreSQL services.
Click here if you'd like a Migration Assessment.
We were proud to be a part of Fujitsu World Tour 2017. It was a great opportunity to meet many Fujitsu enterprise clients, present our PostgreSQL-based enterprise database services and solutions, and help support our customers as they address the challenges of digital disruption head-on.