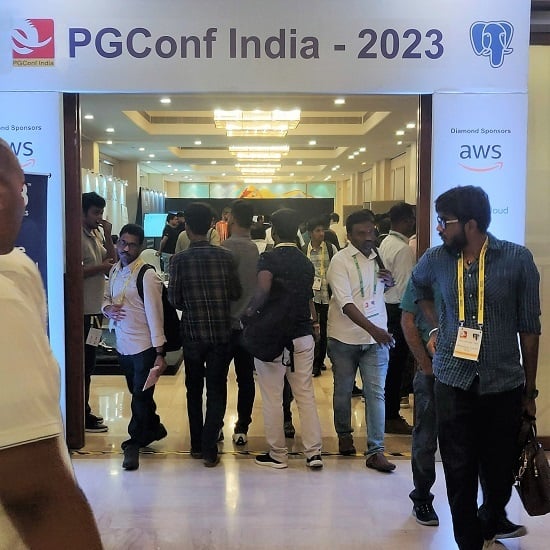 Fujitsu has a longstanding dedication to the open-source Postgres development community. One way we show our support and keep engaged with the community is to sponsor the various PG Conf events throughout the world.
The first event we were part of in 2023 was PGConf India in Bangalore, which couldn't go ahead in 2021 or 2022 due to COVID, so there was a lot of anticipation to get back to in-person events.
I asked Vigneshwaran C, our Software Lead Developer at Fujitsu, about his excitement to meet with the PostgreSQL community after a long hiatus.
"The buzz started a couple of months before the conference," Vigneshwaran said. "Many of my friends were getting in touch from various parts of India in preparation for the meetup. On the conference day, we all caught up and discussed the current and past projects that we'd been working on," he said.
Volunteer-run community events such as PG Confs not only provide a space to nurture relationships and build community - they are also a hotbed of discussion and provide an opportunity to foster collaboration, which is critical to the ongoing development of open source.

It was during one such discussion among peers that Vigneshwaran reported some of the common pain points being highlighted in the Postgres community, including:
If there are multiple walsenders in the publisher, each walsender should read the same WAL file and decode the WAL content
DDL replication is not supported in logical replication
How to support incremental backup
Given the interest in these topics and the amount of discussion, I wouldn't be surprised if there were fixes for these issues by the next version of PostgreSQL!
Vigneshwaran was quick to point out that the conversations also held room to celebrate some of the recent wins and fixes, such as:
Parallel apply worker in logical replication
An option to skip remote origin data which helps the multi-master solution.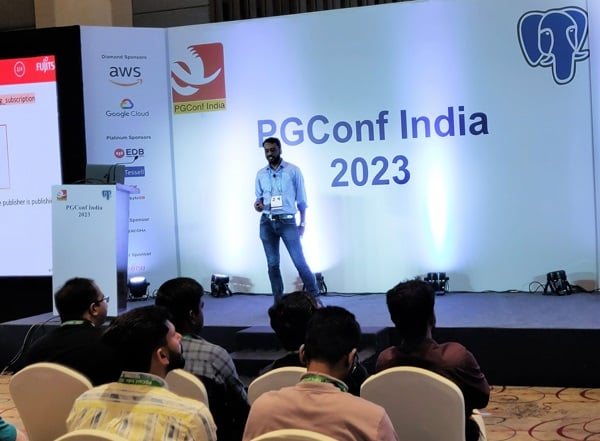 I asked Vigneshwaran what it was like to be one of 27 speakers selected from 120 submissions invited by PGConf India to give his presentation on the Internals of Logical Replication.
"I was encouraged to see the audience at almost full capacity for my session, and afterwards many attendees thanked me for sharing the information on Postgres internals in a simple way with diagrams and tables," he said.
An interactive event by nature, with knowledge sharing encouraged, people from the audience approached Vigneshwaran with questions. "A lot of people met me personally after my session and asked about how to make initial sync faster, what to do about DDL replication, how conflicts will occur and how to solve them. I was able to clear up any doubts," he said.

Similarly, Amit Kapila, the Senior Director of Fujitsu's PostgreSQL team, expressed his delight in being able to meet so many PostgreSQL enthusiasts gathered at the same place.
One thing that stood out to him from his time networking with friends and peers was how many people were considering Fujitsu as a known PostgreSQL contributor. Amit stated, "In the past years, we made small contributions, but now, year on year, we are contributing in major features and the development of PostgreSQL and continuing our legacy as a pillar in the open-source community".


Fujitsu Enterprise Postgres
leverages and extends the strength and reliability of PostgreSQL with additional enterprise features.
Compare the list of features.
Subscribe to be notified of future blog posts
If you would like to be notified of my next blog posts and other PostgreSQL-related articles, fill the form
here
.