There is nothing like a conference on your favourite subject to reinvigorate your sense of purpose. And wow, pgDay Asia 2017 was one terrific motivation-booster!
The event was run over two days, the second day held on the aegis of FOSSASIA 2017 at Singapore's Science Center – an appropriate location for such a summit, with examples of technology on display at every turn.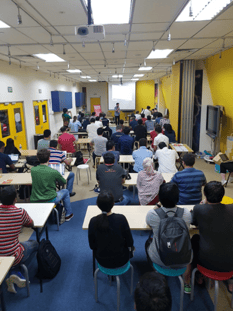 Fujitsu was proud to be a Platinum sponsor of pgDay Asia 2017, which comprised talks by several high-quality speakers from the worldwide PostgreSQL community. This stellar line-up included:
Dilip Kumar (India)
Devrim Gündüz (Turkey)
Umair Shahid (Pakistan)
Sameer Kumar (Singapore)
with a keynote address by Simon Riggs (UK).
It was fantastic to meet these people and learn about their particular expertise. I was quite humbled to be giving my first pgDay presentation alongside so many long-term PostgreSQL community members.
In my talk "PostGIS in Agribotics", delivered on the second day, I highlighted the importance of PostgreSQL technology in agribusiness, particularly as a key enabler of innovative practices.
I provided a use case scenario, which utilised features of PostgreSQL and the PostGIS extension to process images taken from drones. This information could then be used to create efficiencies within the Australian agricultural industry. The use-case approach to address a real-world problem was a refreshing change of pace after the very in-depth technical sessions presented that morning.
As a guest lecturer I was in good company. Over the course of both days a broad spectrum of topics were covered, ranging from an in-depth look at PostgreSQL's Write Ahead Log through to PostgreSQL running on top of Amazon's new Aurora file system. The overall response to the conference was enthusiastic to say the least.
It was a genuine pleasure to be included in pgDay Asia 2017, and I'm already looking forward to what pgDay Asia 2018 may hold.