According to the DB-Engines chart here, open source licenses are rapidly catching up to their commercial counterparts in terms of popularity.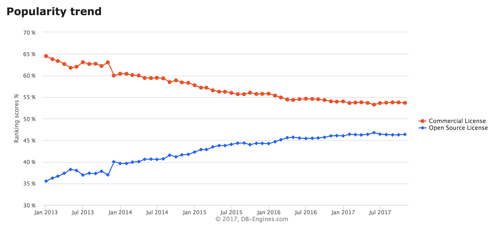 While this is positive for open source communities, we have found that the combination of open source and commercial software is a model that delivers the best results.
These include significantly lower cost of ownership with enterprise-grade features and support most large organisations require. It's a model we've used for many years, and one that I recently presented at Open Stack Summit in Sydney.
I hope this overview provides some insight to help your own database planning.
---

Let me start by saying that Fujitsu supports open source software (OSS) as a concept because it aligns with our corporate vision to improve society through innovation. We call that Human Centric Innovation. It's an approach to create business and social value by empowering people with the power of technology and information, and to connect them with the information and things around them.
With this, we've been involved in open source software projects such as:
OpenStack Open Network Automation platform (ONAP)
Cloud Foundry
Open Container Initiative
Open VSwitch
Cloud Native
PostgreSQL.
Creating innovation
These open source projects complement Open Data to drive the type of innovation the world needs. Open data is a concept similar to "Open Source", but applied to the data collected itself. Open data is important because:
In our digital age, data is a key resource for social and commercial activities. Everything from finding your local bus timetable to building a search engine requires access to data.


Much of this data is created or held by government and large enterprises. This needs to change. We need certain data freely available to everyone and in a format appropriate to the target audience if we are to enable community members more direct involvement in decisions about the society in which they live.


Data storage is becoming further distributed as we see more data become 'open', and volumes increase. Nowhere is this more true than with the 'Internet Of Things' (IoT) data being captured and made available for consumption.


Such distributed data is being made available in the cloud and on-premise, with the distinction between these two becoming less relevant to its consumers. In fact, consumers of data will need to connect more and more to multiple providers of data irrespective of its location (in preference to moving data around).


Data consumers will also want to use data differently whether it be for Online Transactional Processing or analytical use. Data could be of a relational, NoSQL, geo-spatial or even graph nature. Plus, the platform should remove the restrictions on "location", "usage" and "type" and maximise the value of the data. It should not matter in terms of trying to extract value from using that data.
With this dynamic background in mind, Fujitsu has been on a journey towards a scalable platform that integrates both open source and commercial software by collaborating with the organisations and communities we found critical for success. The result is an enterprise-ready "open-data platform" and a number of products.
Fujitsu Enterprise Postgres
At the centre of this open source initiative is Fujitsu Enterprise Postgres, an open source based relational database with enterprise enhancements underpinned by Fujitsu services and support. This database is at the core of Fujitsu's database strategy. With distributed data management becoming so complex, I see advantages in using relational technology to provide structure and consistent interfaces to data, reducing complexity in its consumption.
In addition to Fujitsu Enterprise Postgres for on-premise use, Fujitsu utilises open source for DBaaS (Database-as-a-Service) in our K5 cloud (available in select countries only).Fujitsu Cloud Service K5 supports OpenStack, VMware and Bare Metal, and is the platform of choice for a broad range of IT services. Benefits include:
a universal platform, consolidating workloads to increase operational efficiency
an open platform, maximising interoperability
integration of legacy systems with new technology, saving money
enterprise-class - 99.99% availability and performance predictability across the technology stack.


Open Source has changed our organisation
Over time, the utilisation of open source software with commercial software has seen a change in our OSS business models. This has driven a fresh look at how we:
generate our revenue
resource our projects
give back to the open source community
best work with the community to the benefit of all involved
approach our marketing communications.
The combination of OSS and commercial software has provided us with benefits such as speed and flexibility for our K5 cloud solution. We've been able to use our in-house system know-how and hardware, and then reap the benefits of the quality, productivity, openness and connectivity as provided by open source.
It's a best -of-both-worlds approach that produces greater value for Fujitsu, the open source community and our customers.
Combining the PostgreSQL OSS with our commercial software benefits our database customers and business model on the basis that it is:
an extremely successful open source project
ready-made alternative to Oracle for our larger enterprise customers
very extensible for highly efficient enhancements
backed by a number of commercial entities
used by a large percentage of technology companies.
The open source community also benefits from Fujitsu being involved in the PostgreQL open source project by:
paying resources to work full time contributing to open source community products
bringing added confidence to enterprise users as a global ICT provider
increasing the visibility and standing of the open source product
sponsoring events to promote open source projects and communities
providing infrastructure and services to host and build event websites.

Be aware of the OSS business model you deploy
Of course there are many different OSS business models in use today. These range from community approved models through to models that are not exactly ethical. Our group currently use two different models:
Proprietary extensions and
Selling of professional services.
Proprietary extensions are often sold as externally linked libraries, usually done in this way to avoid restrictions with some licensing agreements. The PostgreSQL license is very open and doesn't impose such restrictions, so our group's extensions are compiled with the open source code to create a licensed product. This is a fairly common model with Red Hat Enterprise Linux being one of the most well-known examples.
I hope this summary helps as you consider how you can reap the benefits of using open source with commercial software. The remainder of the presentation covered features of FUJITSU Enterprise Postgres, our open source based enterprise database product. I look forward to seeing the relationship between open source and commercial closing even further over the coming years.