How many days?
Normally 1 day, but we can customize the length to meet your requirements.
Who is this course for?
Systems Architects and DBAs.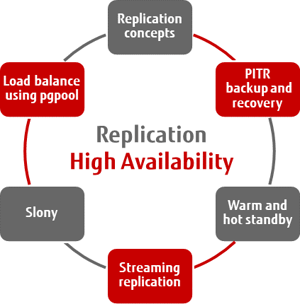 What will you learn?
By the end of this course you will know how to create and maintain fault-tolerant FUJITSU Enterprise Postgres clusters, as well as various options to create a high-availability cluster. You will also know which option is most appropriate for different use cases.
What topics will be covered?
Replication concepts

Backup, recovery and PITR

Streaming replication

Slony

Load balancing using pgpool-II
Contact us to enroll.