FUJITSU Enterprise Postgres databases have an enviable reputation worldwide for reliability, data integrity, and cost effectiveness. However, as your business grows, so do the demands on your database. A Fujitsu Health Check will ensure your system is delivering optimum performance at all times.
Have you ever wondered if the initial configuration of your FUJITSU Enterprise Postgres continues to meet the rapidly evolving needs of your business?
Is your system still running at the best speed now that you have more users and it holds much more data?
And most importantly, are you at risk of costly outages because your system has inadvertently become susceptible to potential security breaches?
A Health Check is the surefire way to ensure your FUJITSU Enterprise Postgres database is running at optimum efficiency for your business moving forward. Enjoy the confidence that comes with knowing your FUJITSU Enterprise Postgres system is as secure, reliable and hardworking as when you first installed it.
FUJITSU Enterprise Postgres Health Check Details
Every system is different. That's why we tailor the Health Check to your specific configuration and requirements.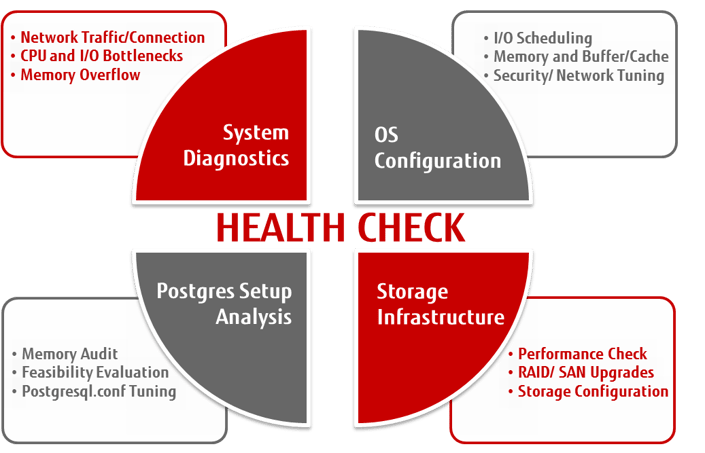 A FUJITSU Enterprise Postgres Health Check includes:
System diagnostics — identifies potential issues such as memory overflows, CPU and I/O bottlenecks, and network traffic and connection issues.
Evaluation of the operating system configuration — includes I/O scheduling, memory and buffer/cache, security and network tuning.
FUJITSU Enterprise Postgres setup analysis — includes postgresql.conf evaluation and tuning, feasibility evaluation for upgrading to the latest version of FUJITSU Enterprise Postgres, audit of FUJITSU Enterprise Postgres memory use, and evaluation of suitability of current hardware configuration.
Storage infrastructure recommendations — determines whether storage configuration upgrades (such as a different RAID level or SAN hardware) would enhance performance and provide a benefit for the client.

FUJITSU Enterprise Postgres Health Check outcomes
We reveal areas of weakness and provide an action plan and best practice guidelines to ensure that your system is optimally configured and tuned, and is able to scale to meet future business needs. And of course, we can help you implement the recommendations laid out in the FUJITSU Enterprise Postgres Health Check.
Contact us if you have any questions.
---
You may also be interested in our other services.